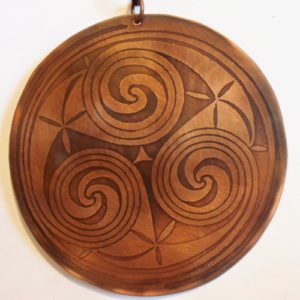 This piece is inspired by the Book of Durrow,a 7th Century Celtic Christian manuscript.It is the oldest complete Insular Gospel Book still existing.Preceding each of the 4 Gospels was a 'carpet page' which were filled with intricate geometrical patterns.
Each piece is hand-etched,patinated,(chemically coloured) by me so every piece is unique.The Durrow spirals are available as Pendants and Etchings.
Click on the title to see the artwork in the shop.