Description
Brian O'Nolan (Irish: Brian Ó Nualláin; 5 October 1911 – 1 April 1966), better known by his pen name Flann O'Brien, was an Irish novelist, playwright and satirist, considered a major figure in twentieth century Irish literature. Born in Strabane, County Tyrone, he is regarded as a key figure in modernist and postmodern literature. His English language novels, such as At Swim-Two-Birds and The Third Policeman, were written under the O'Brien pen name. His many satirical columns in The Irish Times and an Irish language novel An Béal Bocht were written under the name Myles na gCopaleen.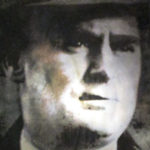 O'Brien's novels have attracted a wide following for their bizarre humour and modernist metafiction. As a novelist, O'Brien was influenced by James Joyce. He was nonetheless sceptical of the cult of Joyce, which overshadows much of Irish writing, saying "I declare to God if I hear that name Joyce one more time I will surely froth at the gob."
This Artwork will literally last hundreds of years due to the way it was made.
The Pictures above are from all the same Piece, just taken under different light conditions. To get the best viewing of your Artwork try displaying it in various places with different lighting . Copper reflects light easily and I have found works best with indirect light shining on it.
The Work is sealed with a clear acrylic spray to protect the patination. It is framed with a Dark Walnut Frame as in the Picture.
Size of Artwork – (framed) 37.5 x 28.5 cms  –    15  x 11  inches